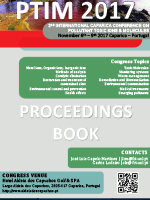 Dear Colleagues and friends,
Pollutants, inorganic or organic, ionic or neutral, have the unmistakeable sign of men kind. They are the slow dead, which kills the life in our planet, kills our kids too, and kills us as well. Does life in Earth have a chance? This is a difficult question to answer. The pollution is so intense in some places of our planet that life has become compromise in them.
A recent study involving more than 30 000 women in the USA suggests that endocrine-disrupting pollutants, EDPs, are linked to earlier menopause. Just as another study done over 2 732 women suggesting that polyfluoroalkyl Chemicals has the same effects as EDPs. And what to say about the recent report alerting the raising mercury content in tuna at a level of 3.8% per year since 1998? Countless examples can be given.
The question still remains: are humans driving the planet till dead?
This question will be answered, or better to say, try to be answered during the 2nd International Conference on Pollutant Toxic Ions and Molecules, PTIM2017 that will be held in November 2017 in Caparica, Portugal.
And last, but not least, we have some of the best in the arena:
Plenary Speakers
Gerald Zagury, PhD

Research Institute on Mines and Environment Civil, Geological, and Mining Engineering Dept Polytechnique Montreal, Montreal (Canada)

Lung and dermal bioaccessibility of metals in PM from soils and mine tailings

Erika Kothe, PhD

Friedrich Schiller University, Institute of Microbiology, Jena (Germany)

Metal response of fungi and streptomycetes in environmental interactions

Irene M. C. Lo, PhD

HKIE Environmental Division Department of Civil & Environmental Engineering, The Hong Kong University of Science & Technology (Hong Kong)

Visible-light-driven N-TiO2@SiO2@Fe3O4 magnetic nanophotocatalysts: Synthesis, characterization, and photocatalytic degradation of PPCPs

Luoping Zhang, PhD

Division of Environmental Health Sciences, School of Public Health, University of California, Berkeley (USA)

Toxicogenomics and Mechanisms of Environmental Pollutants

Tómas Torroba Pérez, PhD

Universidad de Burgos, Burgos (Spain)

A Smart Material for the in situ Detection of Mercury Contamination in Fish Samples
Keynote Speakers
Aiguo Wu, PhD

Chinese Academy of Sciences (CAS) (China)

Rapid Colorimetirc Detection Methods of Ions and Organic Molecules Based on Noble Metal Nanoparticles

Jia Qian Jiang, PhD

School of Engineering and Built Environment, Glasgow Caledonian University, Glasgow (Scotland)

Degradation of selected emerging micropollutants by ferrate(VI) treatment and approaches for the toxicity assessment

Javier Arrebola, PhD

University of Almería, Agrifood Campus of International Excellence, Almería (Spain)

Advances in Head Space Solid Phase Microextraction for the determination of organic pollutants in waste waters by gas chromatography coupled to high resolution mass spectrometry

Henriqueta Louro, PhD

Research & Development Unit, Department of Human Genetics, National Institute of Health Dr. Ricardo Jorge, Lisbon (Portugal)

Tackling the uncertainties of emergent nanomaterials for public health: are metal oxides hazardous pollutants?

Maria João Silva, PhD

Research & Development Unit, Department of Human Genetics, National Institute of Health Dr. Ricardo Jorge, Lisbon (Portugal)

Toxicity of environmental pollutants: from the bench research to human biomonitoring studies

Didier Robert, PhD

Institut de Chimie et Procédés pour l'Energie, l'Environnement et la Santé, University of Strasbourg, Strasbourg (France)

Photocatalytic treatment of water contaminated by micropollutants
The Keynotes can be viewed here
The Oral Contributions can be viewed here
Yours truly
J. L. Capelo
C. Lodeiro
Conference chairs
On behalf of the organizing and scientific committee
Conference Subjects:
Metal ions, Organic ions, Inorganic ions, Toxic Molecules
Methods of analysis
Monitoring systems
Remediation and Bioremediation
Waste management
Catalytic elimination
Restoration and treatment of contamined sites
Environmental contamination, control, prevention
Emerging pollutants
Health effects
Medical treatments
---
Warning for participants
Please note that Exhibition Housing Services, Exhibition Housing Management and Trade Show Housing do not represent the PROTEOMASS Scientific Society nor BIOSCOPE group, nor have PROTEOMASS Scientific Society or BIOSCOPE Group authorized them to use their names or trademarks on information they send out to participants.
---
Be aware of cold calls from Convention Hotel Services (CHS) or from someone named Adam Max! A company called CHS (Convention Hotel Services) is calling or e-mailing attendees of conferences worldwide, claiming to work for the conference organizers and asking for credit card details to finalize the booking of accommodation. If you receive such a call or e-mail, do not give away any personal information or credit card details! None of the parties involved in the organization of PTIM2017 is working with CHS.
We look forward to seeing you soon.
With kindest regards
The BIOSCOPE Team
---
MIND!!: Booking must be done directly with the HOTEL. Internet or travel agency bookings do not included meals and social events. See the Venue Registration section for more information.
Booking through the Internet and/or travelling agencies will imply additional cost for meals:
        • 15€/lunch/person/day
        • 22,50€/dinner/person/day
           no social events